Looking for a fabric light box or several? Well, you just landed in the right spot. Light box manufacturing is right in our wheelhouse and we can build these light boxes to your wildest dreams. We build them for trade shows, events, retail and interior spaces. And here is how we do it:
ORDER



We discuss your project details and figure out the right light box for you.
BUILD
We build your light boxes in-house, right here in China.
PRINT
We have our own printing machines, so we can print fast for you.
SHIP OR INSTALL
We will ship your light boxes or install them wherever in China.
AFTER-SALES
Warranty is 1-2 years.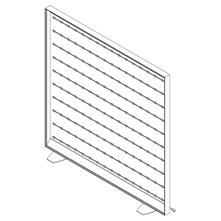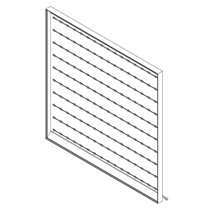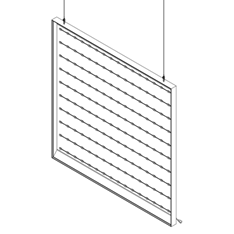 Freestanding Wall Mount Hanging
Choose from 3 different light box frame styles.
Browse Some of Our Fabric Light Box Work from the Following Links.
https://www.alibaba.com/product-detail/Fabric-Light-Box-Fabric-Light-Box_62034341243.html?spm=a2700.galleryofferlist.topad_classic.d_title.49697abajNQPYd
https://china-exhibition.en.alibaba.com/product/62362020140-814564949/Fabric_light_box_wall_mounted_ceiling_hang_outdoor_or_indoor_fabric_light_box_free_standing_light_box_display.html?spm=a2700.shop_pl.41413.10.265d3a52h0wvp9
https://china-exhibition.en.alibaba.com/product/60348541313-220683646/New_Personalized_Aluminum_Led_Boxes_for_Direct_Price_Top_Grade.html?spm=a2700.shop_pl.41413.22.3a442835NG7hIC
Light Box Extrusions
We stock many extrusions for your specific led fabric light box needs.
You can order just the extrusions or have us build the light boxes and print the backlit graphics.
o Silicone groove for fabric graphic.
o Power supply will be external or internal.
o Clear anodized aluminum alloy.
o Can be powder coated any color.
o Can be wall mounted, hung from a ceiling or freestanding.
o 6.1 meter long per piece, but can be cut into any sizes.
o Wall bracket included.
o Below some sizes for your reference, but we also have 80mm wide or custom ones.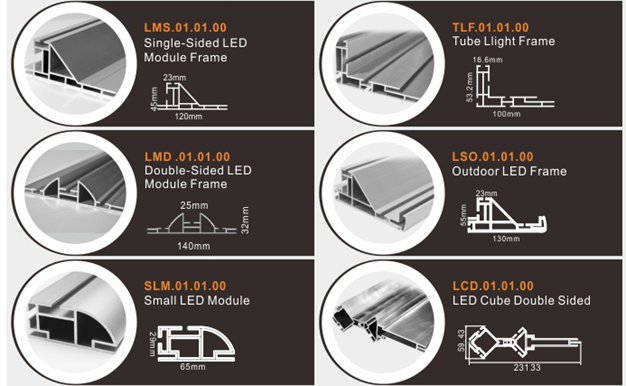 Need Powder Coating?
Our light box extrusions can be powder coated in any color. You'll be glad you did.
LED Lighting Options
The size of your seg light box and how it ships will determine the light type we use. Just know that we will design it in the most efficient way possible for any application
Edge-lit: Osram LED strip. 3, 5, 10 LEDs per module, 24VDC, 9W, 15W or 30W each module. It's one of the world's best LED brands. Each LED is in parallel connection. So, the light strip still can work even if any piece of its LEDs doen't work.

Back-lit: EPISTAR LED (single or double sided for options). Every 3pcs LED are in parallel connection. So, the light box still can work even if any piece of LEDs doesn't work.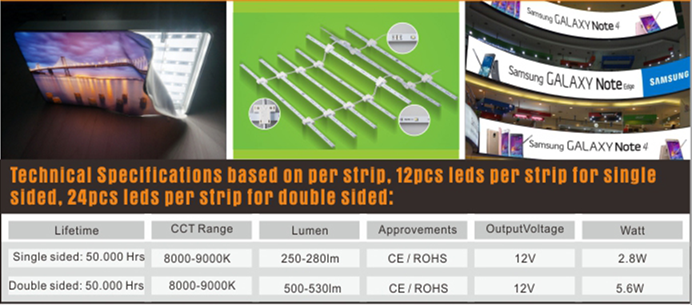 Fabric Graphic
We have a design team more than 10 people who can help to design the graphic. And we have our own printing machines which can print whatever you want in a fast way. We choose the best quality fabric material which has B1 certificate, fire-proof.
Assembling
All our products are based on the combination of ingeniously designed frames and textile prints. The frames can be finished installation within 20 minutes only by Allen key and spanner, no special tool required. The prints are fitted with a silicone strip that fits exactly into the groove of the frame. Mounting prints with silicone strips is very easy. The quality is exceptional, whatever the size of the frame. You will not be able to discover a single crease, even in displays as large as 9x3meters, and placing a print is only a matter of minutes.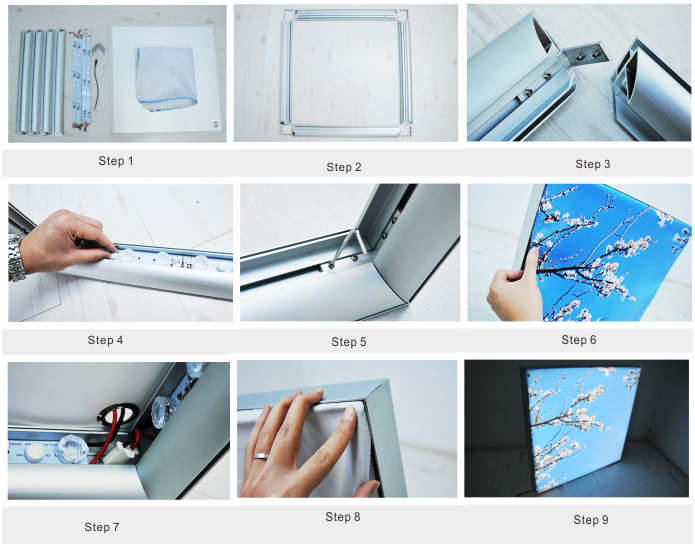 Besides, we have a new series, which is much easier for setup and carry. It's our easy go fast lock light box.
Main features of it as below:
Easy to assemble, no tools needed, stable to use wherever. The light box consists of components that can be configured for different display easily like an illuminated backdrop, full light exhibition booth, etc. and be an eye-catching display at the tradeshow, event or any promotion.
Tool less and easy installation,
Fast and time saving.
The light box can be disassembled easily and fast into
small pieces, and put in the carrier. With such light weight
product design you can carry to anywhere easily.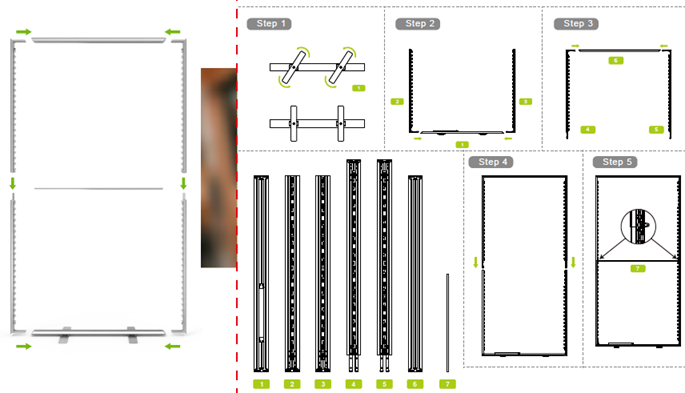 Packing and Shipping
We make sure your light boxes get where they need to go in perfect condition. We custom design each carton or crate for each order.
It's not expensive for shipment as it's compatible.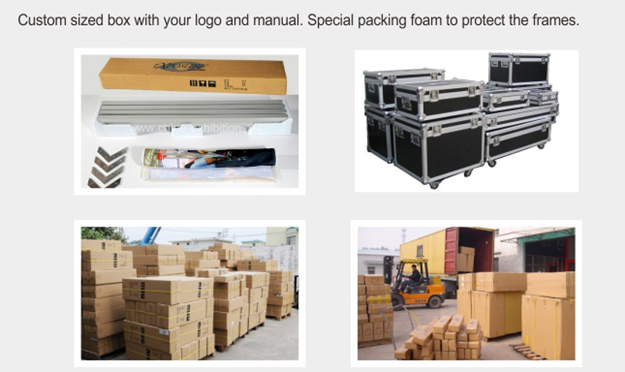 Custom Fabric Light Boxes
Let us know your vision and we will bring it to life. Any shape, any size, any application.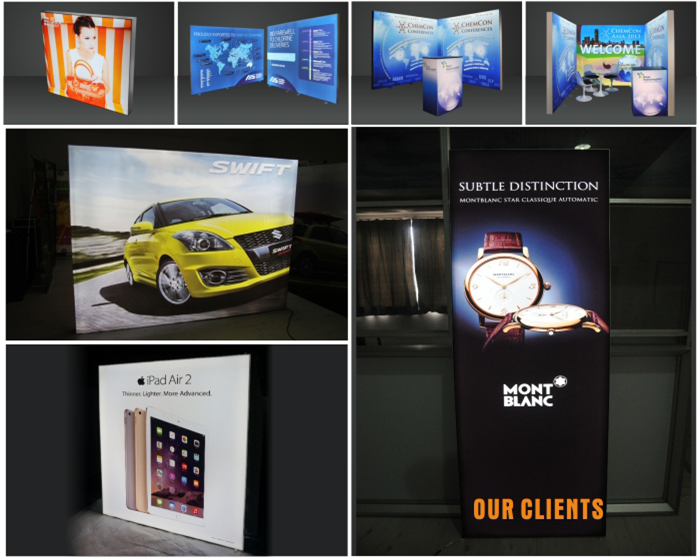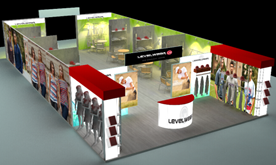 Why choose frameless fabric LED light boxes?
Frameless LED Light boxes using Backlit Fabric are different than traditional light boxes, where the graphic is snapped into place with a frame. To achieve the frameless appearance, the edges of the graphic are sewn with a silicone beading that tucks into the perimeter of the light box extrusion to display a taut, smooth graphic face. This application is growing in popularity and even seen in retail environments such as clothes shops, mobile phone shops, 4S shops, shopping malls etc. They can be fabricated in virtually any size, the bigger the better. Easy to assemble and change graphics, Frameless Light Boxes offer a solid alternative to snap frame light boxes, especially in larger sizes.
Want to know more about us & our products? Or need to get some ideas for your display?
Browse our website or contact us.
Sales Name:Yunxiang Zhong
Tel: 86-0750-3598205
M:86-13902885411
WeChat & WhatsApp:13902885411
Email: ty@china-exhibition.net
Company: TIANYU EXHIBITION EQUIPMENT & MATERIALS CO.,LTD
Address: No.16, Xinchang Industrial Park, Pengjiang District, Jiangmen, Guangdong
Website: www.china-exhibition.net