How to get an exhibition booth which visitors actually come?
Views:3 Author:mandy Publish Time: 2021-03-03 Origin:Site
As a professional factory specialized in making customized exhibition booth with over 18 years' experience, we have just 3 simple tips will help you significantly increase the number of visitors to your booth and your earnings.
Every company that came to the exhibition has also put a lot of efforts into getting a noticeable stand design and their share of attention, so from the point of view of your prospects, it is no news. You need to offer some unique and valuable experience for them.
When you think of an exhibition, you probably imagine excited people, the buzzy exhibition hall, the breathtaking stand designs and other beautiful exhibition aspects. But all of that is not possible if you do not take well the important steps:
1. To have a design of booth.
A good portable trade show booth design of booth should be customized according to the location of your stand, the products you are going to display to the visitors and the style of your company. This is the first step and also a basic of success. It such likes a name card of your business and it is very important to let the visitor to know who you are and what you offer in their first sight.
Tianyu exhibits has the own professional design team with over 9 designers, so we have ability to offer the free charge booth design to our customers. That will make sure the customers are satisfied with their booth design before manufacture.

2. To choose a best material system to build up the booth.
This is the second step after confirm the booth design, a good material system can make the booth looks more eye-catching and cost as less as much your money.
Then you may ask, what is a best system for the booth?
a. Re-use and re-build
If the company participates in many exhibitions every season, it may be a bit too expensive to design and build a totally new stand every time.
An experienced design team would be able to develop a stand that is capable of looking differently every time. It's like a capsule wardrobe – combine the elements in different combinations and get a new look every time. Keeping in mind the company branding guidelines remain the same from fair to fair, this is a viable solution.
b. Modular and easy to assemble
A modular system can make your stand has as more as possible on different buildup of design and reach as much as re-use.
And it should be also very easy to assemble by customers themselves, as we know the labor is too expensive on hiring people to set up the booth.
So do I have a decision? Yes, of course! M-series is very helpful on these, because it's a modular exhibition booth system and people are very easy to play it just like LEGO toys.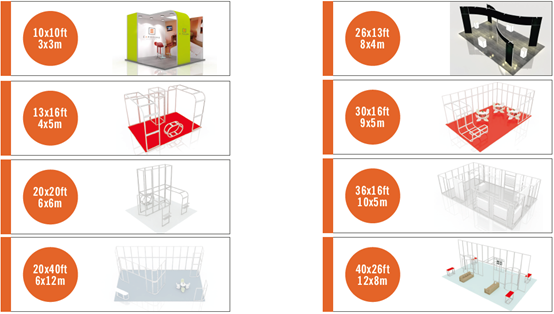 So please do not waste your money! Stand out from a crowd of competitors and draw customers' attention from this short instruction from:
https://www.china-exhibition.net/3D-Design.html
3. Use the eye-catching elements in your booth.
What would be the eye-catching elements?
a. If you've ever been to the exhibitions, you probably met these logos that seem to haunt you even when you visit the public convenience. They're on the walls, they're hanging down from the ceiling and they even look up to you from your visitor's badge. You may never have stumbled upon the exhibition booth of that company but your brain still keeps their logo somewhere in your memory. That costs them tons of money, but is it that much effective? That depends on your goals.
So the cost-effective option is that to build up the logo banner on top of the stand, in this way, it is high enough to let the visitors see your logo when they in far from your stand, and you do not need to pay tons of money on hanging.

b. Your attention may probably be caught by the LED backlit products in the exhibition show. Maybe it is a big backlit wall, or it is an LED structure. The graphic and text on it would be easier to catch the attention of the visitor and let the visitor to read it. And once the visitors stop their steps in front of your stand, it is the good time to go and talk with them, let them stay more time in your stand!
If you want to know more tips of the exhibition or know more about our company and products, please do not hesitate to follow us, we will keep post the useful advertorial to you!
If you have any question or inquiry about our products, please feel free to contact with us:
Website: www.china-exhibition.net
Tel: +86 3598201
Facebook: https://www.facebook.com/tianyudisplay
Linked In: https://www.linkedin.com/company/13003924/admin/
Instagram: https://www.instagram.com/
Twitter: https://twitter.com/home